Welcome!
For over 30 years, A-Image LLC has assisted corporations and companies in developing their brand or service. When you are accepted as a client, our staff will provide you with up to the hour status reports on your project or projects.
Our factories, both domestic and overseas, can provide you with quality products to fit your budget and your time frame. Some of our products and services include:

Banner Displays, Sublimation Flags, Signage, Corporate Gifts, Laser-Engraving, Screen-printing, and Embroidery.
So rest assured that you will get quality products and services in a timely manner. If at any time, you need to ask a question or need additional information on your order, we're just a phone call away. When you are accepted as a client, you become a part of "Our Family." That means you will be treated with respect, and informed on all aspects of your projects, so you know you are doing business with a staff of hard-working representatives, who take pride in their craftsmanship. Our motto is "Service with Integrity."
Featured Item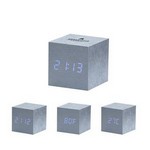 MoMA Alume Cube Clock
Designed by Natalie Sun, the Alume Cube Clock has a textured surface. Snap your fingers or tap the cube and the green LED display reveals the time, date and temperature and after a few seconds the dis...

Signature Showrooms